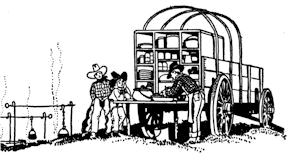 Graduate Christine Holland brings us this event:
The Old West Cookout
"Ready, Roy?"
Get a group together and come on out
for some good grub and good fun!
"...how 'bout some more beans, Mr. Taggart?"
This fundraiser for The Arts Fund (our member Christine Holland is president of their advisory board) will be a fun informal western-theme party, at a spectacular property. The evening includes a full-dinner western barbeque by Woody's, live music by Peter Feldman & The Very Lonesome Boys, fun photo shop by Bob DeBris and drawings by Entera, awards to four local artists (in printmaking, sculpture, theater arts and contemporary painting) and a fabulous silent auction. Come in Western Casual, see and be seen, enjoy meeting and greeting, enjoy the really spectacular polo-grounds property just off Padaro Lane, and help to support the arts of all types in Santa Barbara County.
When and Where: September 14th, 2003 4:00 to 8:00 p.m., held at the ocean view "Bella Vista Ranch" of Patrick Nesbitt.
Cost: The tickets are very reasonable, at $60 each or $50 each if you buy two in advance. All cost over $35 is deductible. Special reserved Patron tables are available for the event, at a cost of $1000 per table.
For more information: Or to have an invitation sent to you, call Christine Holland at 963-7336 or send her an e mail at [email protected].